Hello Families and Friends!
It's funny. Whenever I am going through my son's clothes that he has grown out of, or sifting through his old toys to give away, I hear the Carpenters singing in the back of my mind…songs of happiness, sadness, loss, memories, and love. This happened to me during the entire last week of school as I prepared to say goodbye to this wonderful little class of very special students. Who knew I was such a big sap?! Despite my melancholy feelings though, we had much joyous fun together during the last couple weeks of school, albeit from a distance. One thing is for sure: I will never again take for granted the blessing of being present in a buzzing classroom where we share stories, laugh together, create art, ask questions, brainstorm, and learn together. I so badly wanted to press the 'play' button in my classroom which has literally stood still since the afternoon of March 13th. Soon, the campus will come alive again and it will be a day to rejoice!
This year was successful in part to our wonderful parent volunteers. Thank you to all of the numerous parents who donated their time and/or various items to the class as well as gave their time to drive to field trips. I truly appreciate the lovely Julie Bowen, my room parent extraordinaire, who was organized, fun to work with, and so creative all throughout the year! Thank you 🙂
Each year on the last day of school, I hand out special little awards to the kids. It was just as much fun writing out the awards as it was giving it to them. Here is the list of the awards:
Raj – The Puzzle Award
Smith – The Guiding Light Award
Ella – The Fashion Diva Award
Leilah – The Loving and Kind Heart Award
Kenzie – Ms. Research Award
Celeene – The Sunshine Award
Campbell – The Everybody's Friend Award
Atticus – The Knowledge Dropper Award
Louisa – The Cheerful Cheerleader Award
Evan – The Colored Pencil Award
Kirra – The Hug Bug Award
Liam – The Impressive Butterfly Award
Nate – The Good Idea Award
Aaron – The History Buff Award
And our Soar With The Eagles Winner: Smith Bosse!
Congratulations to all for your unique and individual efforts and gifts you offered all of us all year long 🙂
On Tuesday, May 19th at 9:00am, please join us for our 2nd grade drive by end of year party! I will hand out these awards along with some other classroom items and a little gift for each student. I will need to collect the anthologies, the whiteboards, any small group readers, and any ipads borrowed from school. All items will be exchanged through your car windows in the spirit of social distancing (bummer). Also, I have been instructed to wear a mask; just know I'll be smiling at you underneath it! And probably crying behind my sunglasses 🙁 If you'd like to drop off the anthologies and whiteboards sooner, please leave them outside on my bench and email me that you've done so. Mrs. O'Shell created an acrostic for each student to hang as a flag outside his or her car (if you want to). You should have received these in the mail as she sent them out a few days ago. I have been asked if people can decorate their cars and the answer is YES! Anything goes (as long as everyone stays in their cars). Thank you! It should be a fun and unique party for sure and will be nice to see you all off before summer officially starts!
Reading, Writing, Language, & Spelling
I can't believe it, but we have officially finished our reading and language arts series! We finished up with a few great selections about what makes our country GREAT! "America Is. . ." by Louise Borden discusses the customs, symbols, celebrations, and landmarks that make up the national identity of the United States. "This Land Is Your Land," words and music by Woodie Guthrie, were accompanied by explorer Sam Abell's photos of the United States which, combined with these song lyrics, express this man's love of the unique American landscape. Some of the words we have been using in sentences and reading about are: freedom, immigrant, landform, monument, seek, state, symbol, and united.
Since we have been reading and writing about our great nation, we decided it would be fun to write about a place we know well: Arizona! We came up with our own lists of things unique to our state. This list was easy for the students to create as so much of our social studies and science this year revolved around our unique desert environment. Then we wrote our own Arizona state anthems/poems using these ideas. We finished off our good drafts by coloring an Arizona flag on the back (personally I think our state has the coolest flag out of all the states!).
Mathematics
We pushed through and finished our entire math curriculum! Over the past few weeks the students have been solving comparison problems with a smaller unknown, playing games that involved subtracting amounts from 100 or one dollar, and solving story problems with a focus on developing efficient and accurate strategies for subtracting 2 and 3 digit numbers.
Please keep working on your math facts over the summer! 3rd graders at St. Michael's are expected to complete 100 addition/subtraction facts in 4 minutes! A wonderful website with tons of review, especially some really great math review, is abcya.com.The kids all have access to Freckle.com and that is an amazing site. And last but not least, the tried and true WebMathMinute.com
Science
We continued our weather study by doing more weather journaling. We learned about the 4 most common types of clouds: cirrus (the thin whispy ones), stratus (the blanket covering the entire sky ones), cumulous (the giant puffy white ones) and cumulonimbus (the big gray poofy raincloud ones). We also learned about how rainbows are formed and the color spectrum that makes them up.
Teaching Time
Check out all the cool things the kids have been teaching about:
Raj – Golden doodles, SpaceX Falcon 9
Smith – historical mysteries, Robin Hood
Ella – how to make a pizza tutorial, Popbeads
Leilah – Mt. Lemmon life zones, MadLibs/parts of speech
Kenzie – glowing pendulum kit, sunflowers
Celeene – allergies, anteaters
Campbell – Super moon, how to make banana pops
Atticus – volcanoes, Africanized bees
Louisa – Eagle huntress Aishol-pan, Minecraft
Evan – Slide Rock State Park, Ft. Tuthill bike park
Kirra – Mesosaurus, Australian Shepherds
Liam – BBC microbit, Dungeons and Dragons
Nate – Mom's special smoothie, world's tallest skyscraper
Aaron – Nintendo 3DS, rocks
I would like to close this final blog by saying the following:
Thank you for all of the end of the year gifts, cards, and especially the meaningful sentiments in those cards…enough to make this old gal shed big tears into her oversized American flag coffee cup, but so sweet as to make this old gal feel like I did a lot of things right this year. To know that you, the parents and kids, are happy is truly the best gift of all.
Thank you for your patience and support as I navigated through the tricky spots of online work-life and homeschooling my own child.
Thank you for trusting me with your children. Being a parent, I know, appreciate, and respect what it feels like and what it means to leave your most valued treasure with someone who is not you.
Most importantly, thank you to my students. Every day I spent with you was magic.
Have a wonderful summer and enjoy time spent with family, friends, pets, books, and nature! I will see you soon either to the north or south of Camp Wanna-Learn-A-Lot!
Best,
Annie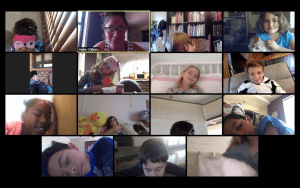 PJ Day!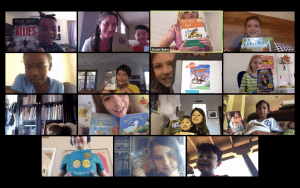 Favorite book day!
Baby pictures!
I felt so appreciated!!
Uniform day!