Hello Families and Friends!
Greetings and happy 2021!  We started the new year strong here in 2B!  The students seemed to all be excited to get back to the grind and are doing quite well. They are all becoming very technologically proficient – BUT –  let's hope it won't have to last much longer as the adults here on campus are all rushing to get vaccinated so we can hopefully BRING THE KIDS BACK TO SCHOOL!  
Thank you for attending your child's conference. If you have any further questions or concerns that we did not cover, please do not hesitate to let me know!
We will be exchanging Valentines within our class for Valentine's Day. Here is the list of names for our cute little group: Adam, August, Charlie, Elena, Eli, Leo, Nathaniel, Nora, Reagan, Scarlett, Surya. More V-day details to follow…I just wanted you to know the names of the kids and how many cards you would need far in advance because if your child is like my son, they are VERY specific about the types of Valentine cards they want to send out, thus needing to be special ordered 🙂
*******IMPORTANT INFORMATION******
We will be taking our online standardized "Renaissance" test next Wednesday and Thursday. I have posted the website and login directions on our Google Classroom. I strongly urge you to do a trial run with your child over the weekend to ensure login capabilities and understanding so that the day of the tests will be smooth. (Please don't take the test until we are together as a class on Wed/Thurs.) Thank you!
**For art class next Friday, Ms. Allen has requested that each family supply their child with a 6"x6" piece of tin foil in order to finish a car project. Thank you!** 
Reading
"Why is nature always changing?" That is the big question we are exploring in this new reading unit. To answer it, we are reading, writing, and talking about cycles in nature, including weather and the seasons. When the Wind Stops by Charlotte Zolotow was one reading selection where a mother explained that things in nature don't end; they only change or move on to another place. Day and Night was an article and experiment by Glen Phelan which explained what causes the patterns of day and night. While discussing our reading, we have tried to use our new vocabulary words: appear, motion, observe, pattern, repeat, and shadows, to name a few. 
Spelling and Language
 Here are all the various spelling patterns we have studied over these past two weeks: long I spelled I, ie, igh; long E spelled e, e_e, ie, y, ea; soft G spelled gi and ge; soft C spelled ci and ce; the N sound spelled n, kn, gn; the R sound spelled r, wr; and the M sound spelled m, mb. Many of the kids think it is cool to point these spellings out when they are reading independently. You can encourage them to do this at home too. Strong reading and strong spelling go hand-in-hand. In language, we focused on complete sentences with correct subject/verb agreement, adjectives, synonyms, and antonyms. 
Writing
We have been practicing persuasive writing. This group of bright students is already proficient in being convincing; however, we can always use practice on using stronger words in our writing paired with details to support out thoughts. We read the book Dear Mrs. LaRue and wrote a persuasive letter to the main character (Ike the doggie) where we used persuasive language to convince Ike to stay at his obedience school. The students had such a great time with this assignment, so we decided to do more persuasive writing: they were given a chance to try to persuade me to take them on a field trip to a place of their choosing. The students had to provide enough concrete examples as to why their field trip would be best and most useful for our class to attend. Boy your kids are wonderful at finding reasons to help them convince others! They also must think I have sacks of money sitting around my house or something…read: proposed field trips to Defy, the farm, ice cream factories, planetariums, the beach, doggie day care, the turtle pond, the rock and fossil museum, an art museum, a history museum, and Antarctica. Haha! If only… 😉
Mathematics
We have started a new chapter called "Working with Categorical Data." We kicked off the new unit with a game of "Guess My Rule." During this game, we sorted our classmates into two groups according to a secret attribute or rule. They made representations of the data for one rule, compared different representations, and were introduced to the conventions of picture graphs. We have started learning different ways to collect data and how to organize that information into a picture graph, line plot, or bar graph. I love this chapter and I'm sure the students will be creating their own surveys and graphs at home soon!
Social Studies
We are continuing to work on making and reading maps. During our Social Studies block, we also discussed how we can do our part in society to make things better. We wrote  some touching word poems for MLK Day where we named things we wished to improve about the world "with our two hands." They will be displayed in the classroom. We also learned a lot about each other by doing a little snowman hieroglyphic activity. Those are currently displayed on our East bulletin board.
Science
 We dove into a new science unit of matter: solids, liquids, and gases.  We learned that everything in the universe is made up of matter.  This past week, we focused on solids.  We analyzed several different solids and observed their properties.  We played a guessing game where the class had to guess what property two chosen solids had in common. The students are looking forward to more fun projects and experiments having to do with matter!
Teaching Time
August – Legos, pretzels
Adam – solar/lunar calendar, planetary conjunctions
Scarlett – African egg eating snakes, how to crochet
Charlie – grapple hooks, his drum kit
Leo – T-rex, fidget spinners
Nathaniel – Quidditch, bikes
Nora – snow globes,  starfruit
Reagan – lightning, koalas
Surya -birds at Reid Park, rare US coins 
Eli – volcanoes, his cats
Elena – thunder, VanGogh  
What a great start to the New Year! See you on Tuesday as there is no school Monday 1/18/2021!
Annie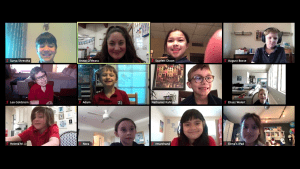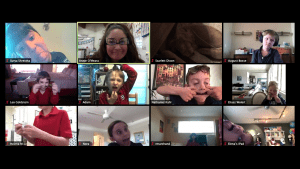 My crazy campers!
My workspace & sleeping coworker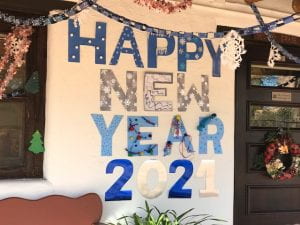 Amazing New Year sign from Adam and Agnes – thank you!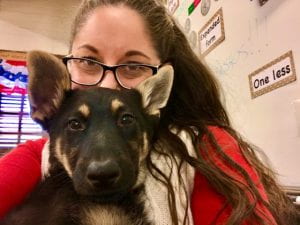 My serious coworker