Hello Families and Friends!
We made it to Rodeo Break! I explained to the kids that Tucson is the only place in the WORLD that gets days off for the rodeo. Unique, to say the least! 🙂
We had a couple entries from our class in the "edible car race" last week and I am excited to announce the 1st place winner: Ella and her sister Quinn's car "Mighty!"
Ella with "Mighty"
Speaking of Ella, she also won our class handwriting competition! It was a close race, but her letters were formed and spaced most accurately according to the Zaner-Bloser penmanship standards. Check out her paper:
The good news is: now that I saw just how well everyone who participated in the competition can actually write, I can expect that same level of handwriting accuracy on every assignment from here on out…right!!?? 😉
We had our Valentine's Day celebration/Hoedown where we created some super cute Valentine baggies, exchanged Valentines with our class and 2A, enjoyed yummy treats, and learned how to do the country 2-step and the "Cotton Eyed Joe" (everyone needs to learn these dances at some point in their lives, right? And for that, you're welcome!). Thank you to Julie Bowen for bringing the treats!
Does everybody understand the expectations of next month's book report? If not, please let me know and we'll talk. The students seem to be excited about working on their "biographies in a can" and we are all looking forward to learning about a numerous amount of notable people!
Our Desert Museum field trip is Friday, February 28th. The kids need to bring their own lunches as we will be there the whole day. Red shirts, khaki bottoms, hats, sunglasses, and sunscreen are all needed that day as well! The week following Rodeo break, each student will be presenting information on a Sonoran Desert animal during their regularly scheduled Teaching Time slot. If you can drive on the trip and spend the day with us, please let me know or sign up on the sheet outside our door. Thank you!
Ms. Allen is requesting a photo of your child enjoying nature (hiking trip, beach, desert hike, etc.) to be part of our Fine Arts Night slideshow. Please email a picture to her no later than March 20th. Her email address is kallen@stmichael.net. 
Spelling/Language
One way that we work on our spelling words in class is by playing a game called "Word-O" which is much like Bingo. In each square, the students will write a spelling word and much like Bingo, when the word is said, the student will place a marker on that word. When a student reaches 4 words across, down, or diagonal, he or she will yell "Word-O" and will read us the four words. We have also been working on identifying nouns, verbs, and adjectives in sentences and paragraphs. Included in our noun work, we are practicing changing singular nouns to plural nouns and are observing how at times, the spelling can completely change when doing so. We are working on locating and using singular and plural pronouns (I, me; them, us) as well as subject and object pronouns (she, it; him, her). Our spelling patters for the past few weeks have been the 'ar' sound and the 'or' sound spelled OR and ORE.
Reading
We started a new reading unit: "Why do people work together?" That is the big question we are exploring at the moment. To answer it, we are reading, writing, and talking about cooperation. The story "Domino Soup" by Carmen Agra Deedy was a play where neighbors cooperate to make soup from just one domino. "Stone Soup" by John Forster and Tom Chapin was a cool story that talked about a soldier who uses stones to make soup for an entire village. All stories weighed heavily upon teamwork and the benefits of cooperation. Some vocabulary words we have been working with during the past two weeks are: cooperate, enough, possible, society, teamwork, and together.
Science
We have observed various liquids and have discussed their densities, how they move, and if they are transparent, opaque, etc. We learned that the closer the molecules are in a piece of matter, the harder, or more dense, it will be. So, for instance, a liquid like honey is made up of more closely-packed molecules than the molecules in water. We performed an experiment to solidify this concept: we tried to mix water and oil together, but no matter how hard we tried, the liquids would not combine! That's because they have different levels of density! It seemed like the students had a great time making their "magic potions!" They used their recent knowledge of liquid densities and vocabulary in order to make some pretty interesting concoctions!
Social Studies
We began a new study on geography. We are learning that communities have different geographic features and that physical maps show these features: mountains, deserts, rivers, valleys, oceans, lakes, islands, plains, etc. We have practiced identifying geographic features and locating them on a physical map. We also practiced drawing the different geographic features on our own physical maps to show understanding.
Writing
We finished our Valentine's Day stories: some were romcoms, some were tragedies, some were downright silly; but all were wonderful! They are in our classroom author's library box. We also learned how to write a proper recipe (in the spirit of the "Stone Soup" book we read). We looked at examples of real recipes (read: we visited my eclectic Pinterest recipe board to find these). We noted that there are ingredients and their amounts, plus there are steps on what to do with those ingredients and for how long. We had some pretty unique recipes from good old chicken soup to Unicorn Rainbow soup and Animal soup. Ask your child about his or her recipe!
Mathematics
We have embarked on Investigation 2 of place value in the hundreds. The students have been focusing on strategies pertaining to +/- 10, +/- 100, and numbers through 1,000. One fun game was called "Close to 100," where the students used their knowledge of place value and known combinations of sums to find pairs of 2-digit numbers that add to 100 or close to it. We played several rounds of "Guess my Number" up to the 1,000s! That's a game you could totally play at home if you have a number chart; ask your child how to play. More math fun to come soon!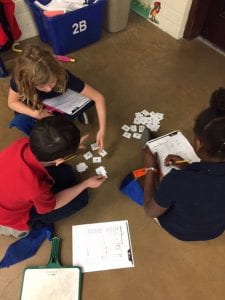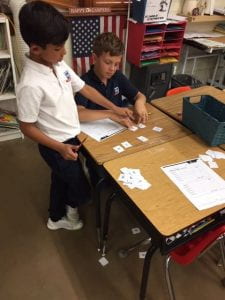 Adding, subtracting, and counting, oh my!
Teaching Time
Check out all the cool things the kids have been teaching about:
Raj – London Eye, community service
Smith – Galileo, Easter Island
Ella – hacky sacks, how to make a pinch pot
Leilah – Helen Keller, Arizona facts
Kenzie – sea turtles, duck decoys
Celeene – iguanas, weasles
Campbell – how to play Labyrinth, how to make pillows
Atticus – Gem and Mineral Show, black widows
Louisa – Trash card game rules, how to draw a mountain landscape
Evan – Henry Ford, how to draw a spaceman
Kirra – armadillos, cacti
Liam – betta Fish, Wright Brothers
Nathan – lacrosse rules, squirrel monkey
Aaron – Saturn 5 rocket, tanks
Nice work, everyone!
We had such fun at the Fox Theater on Friday. We loved the show Miss Nelson Has a Field Day!
Happy Birthday, Celeene!
Happy ½ Birthday, Leilah!
See y'all soon and blessings for a safe and happy Rodeo Break!
Miss O'Meara