Posted by
annieomeara

| Posted in Uncategorized | Posted on February 16, 2019
Hello Families and Friends!
We made it to Rodeo Break! I explained to the kids that Tucson is the only place in the WORLD that gets days off for the rodeo. Unique, to say the least! 🙂
Parent/teacher conferences will take place starting the first week back to school after break. Please sign up through email invitation via SignUpGenius if you have not done so already.
We had one entry from our class into the "edible car race" this past Monday: Sami won 2nd place with her car named "Speedy Gonzales!"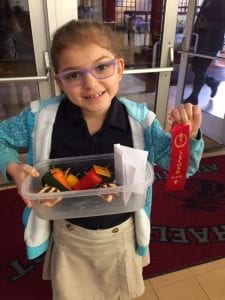 Yay Sami!
We also have had our first class member join the 100 Book Club! Congratulations to Max for reading 100 books and keeping track of them in his reading log! Hopefully more friends will join Max in the club soon!
Yay Max!
We had our Valentine's Day party where we created some super cute Valentine creature mailboxes, exchanged Valentines, and enjoyed yummy treats. Thank you to Monica Gonzales, Nova Burns, and Angie Martinez for planning the festivities!
Does everybody understand the expectations of next month's book report? If not, please let me know and we'll talk. The students seem to be excited about working on their "biographies in a can" and we are all looking forward to learning about a numerous amount of notable people!
Spelling/Language
One way that we work on our spelling words in class is by playing a game called "Word-O" which is much like Bingo. In each square, the students will write a spelling word and much like Bingo, when the word is said, the student will place a marker on that word. When a student reaches 4 words across, down, or diagonal, he or she will yell "Word-O" and will read us the four words. We have also been working on identifying nouns, verbs, and adjectives in sentences and paragraphs. Included in our noun work, we are practicing changing singular nouns to plural nouns and are observing how at times, the spelling can completely change when doing so. We are working on locating and using singular and plural pronouns (I, me; them, us) as well as subject and object pronouns (she, it; him, her). Our spelling patters for the past few weeks have been the 'ar' sound and the 'or' sound spelled OR and ORE.
Reading
We started a new reading unit: "Why do people work together?" That is the big question we are exploring at the moment. To answer it, we are reading, writing, and talking about cooperation. The story "Domino Soup" by Carmen Agra Deedy was a play where neighbors cooperate to make soup from just one domino. "Stone Soup" by John Forster and Tom Chapin was a cool story that talked about a soldier who uses stones to make soup for an entire village. All stories weighed heavily upon teamwork and the benefits of cooperation. Some vocabulary words we have been working with during the past two weeks are: cooperate, enough, possible, society, teamwork, and together.
Science
We learned about densities of liquids! We learned that the closer the molecules are in a piece of matter, the harder, or more dense, it will be. So, for instance, a liquid like honey is made up of more closely-packed molecules than the molecules in water. We performed an experiment to solidify this concept: we tried to mix water and oil together, but no matter how hard we tried, the liquids would not combine! That's because they have different levels of density! It seemed like the students had a great time making their "magic potions!" Come by our room to see the gallery of different liquids that they used! Super fun stuff!
Social Studies
We began a new study on geography. We are learning that communities have different geographic features and that physical maps show these features: mountains, deserts, rivers, valleys, oceans, lakes, islands, plains, etc. We have practiced identifying geographic features and locating them on a physical map. We practiced drawing the different geographic features on our own physical maps to show understanding.
Writing
We finished our Valentine's Day stories: some were romcoms, some were tragedies, some were downright silly; but all were wonderful! They are in our classroom author's library box alongside all of the other cool holiday-themed stories the students have written over the past several months. We also learned how to write a proper recipe (in the spirit of the "Stone Soup" book we read). We looked at examples of real recipes (read: we visited my eclectic Pinterest recipe board to find these). We noted that there are ingredients and their amounts, plus there are steps on what to do with those ingredients and for how long. We had some pretty unique recipes from good old chicken soup to Unicorn Rainbow soup and Animal soup. Ask your child about his or her recipe!
Mathematics
We completed our math chapter on dividing and multiplying numbers. I know, some of those word problems in this chapter were real doozies! Lucky for me I have the book with all the answers 🙂 I'm mainly concerned that the students are, at the very least, able to solve a word problem by using some sort of logical reasoning. The way these problems are written with extra or missing information makes things very difficult; however, we routinely discuss and practice strategies to read and break down these problems to the very basics: what is the question being asked and what operation do we need to answer it.
Teaching Time
Check out all the cool things the kids have been teaching about:
Jady – her dogs, worms
Michael – how to read piano music, butterflies
Twyla – her dogs, Calexico band
Max – reflexes, snakes
Ava – how to play the violin, Gem and Mineral Show
Sami – edible car race, toads vs. frogs
Tate – lacrosse, koalas
Nikolas – the Dead Sea, Jordan River
Elia – stuffed animals, peacocks
Joshua – nerf guns, lacrosse gear
Sienna – stuff made out of rocks, silkies
Noah – dog groomers, his Valentine box
Elizabeth – Minnesota facts
Ife – tigers
Happy Birthday, Elia!
Happy half birthday, Ife!
Happy half birthday, Sienna!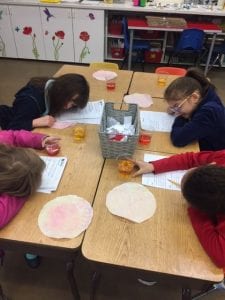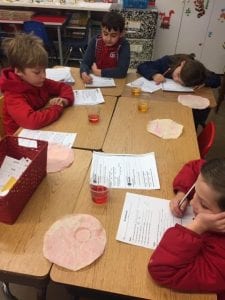 Will the oil and water EVER mix???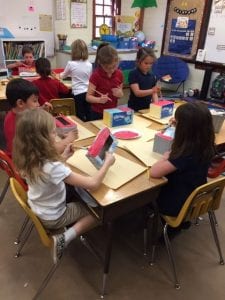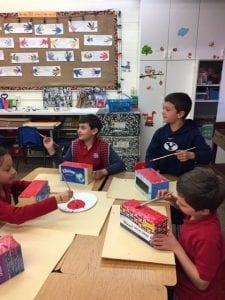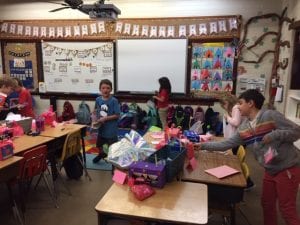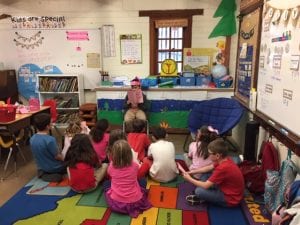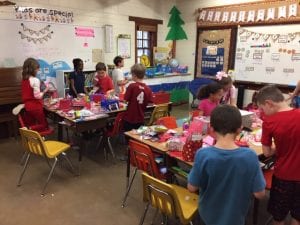 Valentine's Day preparations and festivities!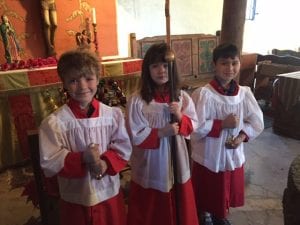 Apostles
See you all soon and blessings for a safe and happy Rodeo Break!
Miss O'Meara