Posted by
annieomeara

| Posted in Uncategorized | Posted on February 2, 2018
Hello Families and Friends!
Hello and happy February from 2B! We hope that you have had a nice couple of weeks. Interesting weather, wouldn't you say? It is still a bit chilly in the mornings, so please make sure your little one comes to school with at least a sweater or some other type of layer.
Does everybody understand the expectations of next month's book report? If not, please let me know and we'll talk. The students seem to be excited about working on their "biographies in a can" and we are all looking forward to learning about a numerous amount of notable people!
If you have not turned in a rectangular-shaped empty tissue box, please do so as soon as possible! We will be making our Valentine mailboxes in one week. The square tissue boxes would be ok too, but since we're exchanging Valentines with the students in 2A, I was thinking the squares wouldn't be large enough to fit all 32 Valentines.
This upcoming Monday is the 100th day of school for us! If you haven't brought in a baggie of 100 pennies yet, please do so because we will be doing some cool STEM activities Monday afternoon involving the 100 pennies. Thank you!
Spelling/Language
As I am sure you have noticed, our spelling lists have grown to be 20 words long. This is in preparation for 3rd grade spelling/vocabulary expectations. There are still phonetic pattern/syllable pattern words as always, but now there are more difficult words included from our reading text and also some words from our science and social studies units. A few of the vowel spellings we have been working on during spelling time are: the 'OO' sound spelled oo, _ue, ew, ui, and ou; and the 'YOO' sound spelled ue and ew.
We have also been working hard on correct placement of quotation marks. Boy, do we love grammar and punctuation!
Reading
We have finished our unit on different cycles in nature. It was the students' favorite reading unit so far as it contained so many interesting and thought-provoking selections. "What Makes the Seasons?" by Megan Montague Cash was a cool poem-story where the speaker described the four seasons and explained why Earth has them. "A Winter Wonder" by Tyrone Hayes, Ph.D. was an interesting science article where explorer/scientist Tyrone Hayes explained how the American wood frog adapts to changes in the seasons. Some vocab words we have been using in our reading and writing during the last couple of weeks are: affect, autumn, explain, measure, and reason. 
Writing
We have been completing some fun writing assignments lately! One was another "snowball fight." The students had to use descriptive language to write clues about their favorite season by describing how a tree looked during that season. We then crumpled up our papers and threw them across the room a couple of times. We picked up a "snowball," read the clues, and guessed based upon the language used what season the author was talking about.
We also have been refining our writing to flow a little better for the reader. This includes understanding how compound sentences (2 simple sentences joined together with the words 'and' or 'but') and compound questions (2 simple questions joined together with the word 'or') work. We practiced writing compound questions by pretending we were waiters. We wrote mini-plays where we pretended to take a customer's order and wrote compound questions such as: "would you like fries or apple slices?" The kids had such a good time that we paired up with partners and put these mini-plays on for our classmates. It was fun! Especially when some kids randomly decided to use either country Western or French accents. 🙂
In the spirit of Valentine's Day, we have just started writing the rough drafts of some V-day stories. According to some initial story outlines, we will be having some Valentine's Day tragedies. The students are getting pretty creative with their writing!
Mathematics
We are almost finished with our unit on multiplying and dividing numbers and learning our facts. The two areas where everyone could use extra work is on word problems and basic facts. Right now, the 2nd graders are expected to be able to complete 100 addition, subtraction, and multiplication facts in 5 minutes or less. In 3rd grade, they have the same number of problems, however only 4 minutes in which to complete them! I have one word for you: FLASHCARDS!
The students had a successful Math-A-Thon! We appreciate all of your pledges 🙂
We had a great time reviewing multiplication facts with a fun card and dice game. The students played in pairs and multiplied the number on the face-up card times the number rolled on the die. They had to make sure to check their partners' answers in order to move on to their next turn. I bet they'd love to play this with you at home!
Science
We continued our study of solids and used our senses to decipher which properties different solids share in common. We completed an activity including a "sorting circle" where we sorted objects according to common properties, and we also had fun with "guessing bags" where we used our sense of touch to feel properties of a solid and hypothesize what the solid was based upon the properties we felt. We "solidified" our knowledge of solids by creating an object which represented a property which is unique only to solids, i.e. bumpy, rough, pointy, etc. We had a great time creating these solids and they are displayed on our room for all to observe! Next matter up: liquids! We have observed various liquids and have discussed their densities, how they move, and if they are transparent, opaque, etc. More to come!
Social Studies
We reviewed how to use map grids on a larger scale. Then we tried our hand at making our own grids…which we quickly found out was harder than it looks, but still a fun challenge! We practiced using our cardinal directions in pairs by playing a fun game. We had a game board and some cards with directions such as "take 2 steps south and 1 step east." The goal was to get to our specific house on the game board through all these directional steps. Finally, the students are feeling much more comfortable with NSEW direction-giving. Practice makes perfect 😉
Teaching Time
Check out what the kids have been teaching each other (and me) about!
Zoe – how a kaleidoscope and a loom work
Austin – chameleon and blue topaz facts
Parneet – how her camera works and facts about the Golden Temple in India
Ava – showed us a magic trick and taught us how to make a Central Park model out of candy
Cecilia – the life cycle of a star and facts about refraction
Miles – how to make an origami cat and facts about Bill Gates
Harper – different seashells collected from the Mexico region and highlights about her grandfather's life
Paul – facts about caecilians and secretary birds
Wheeler – different deadly animals and facts about Nikola Tesla
Alice – famous attractions in Brazil and how to make a paper dog face
Jay – how fruit is freeze-dried and ant facts
Joel – history of jelly beans and how walkie talkies work
Elias – how to make a cool paper airplane and origami dinosaur
Victoria – how her book club works and bat facts
Naomi – how popcorn pops and about her bunny fairy pen pal named Lucy
Wylder – how his Buddha board and his remote control car works
That's about all of the big news for the past 2 weeks! Have a great weekend!
Miss O'Meara
Reading clues after the snowball fight
NSEW game
Solid creations
Happy Birthday, Austin!
Happy half Birthday, Jay and Joel!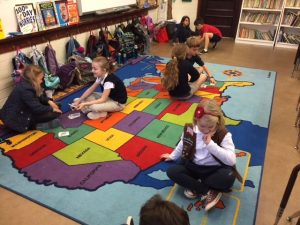 Math fact card/dice game