Posted by
annieomeara

| Posted in Uncategorized | Posted on April 5, 2019
Hello Families and Friends of 2B!
We have been having an especially interesting and fun couple of weeks here in 2B!
Thank you to all of you who donated eggs to the Casa Maria Foundation. Also, thank you to those of you who supported our school at the big Gala! It was a grand night with lots of fun, laughs, and music!
We have a fourth special friend who is now part of the 100 Book Club: congratulations to Elia Lientz! Who will be next??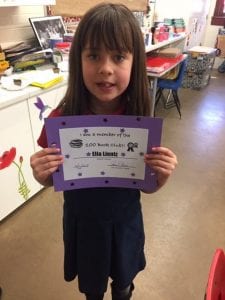 Way to go, Elia!
The students are really looking forward to performing for you at our Fine Arts Night next Friday, April 12th. The students should be dropped off in Ms. Hart's classroom at 6:30pm (it's my son's Spring concert that same night, so I will be arriving to our concert a bit late). The show starts at 7:00 in the gym and the students will be dismissed at the end of the show from our classroom. The students should all come wearing the shirts that Ms. Allen provides to them plus solid black bottoms. It is a super cute show and I can't wait to see it in its entirety! If you haven't emailed me or Ms. Allen with a picture of your child with his or her pet or a special stuffy, please do so immediately.
My crazy pups, Zoe and Axe
Spelling and Language
We have been focusing on long vowel words as well as words that we can hyphenate. We also have been learning about articles ('a', 'an', and 'the'), synonyms, and antonyms. The students have been enjoying becoming more familiar with the thesaurus and the dictionary. We are practicing using both resources to find what I like to call $100 words in our writing. We just have to remember to use words from the Thesaurus that we can understand! Our recent spelling patterns are: al, all, oi, oy, ow, and ou.
Writing
We have been working very hard on locating details from stories and/or articles and using those details to answer comprehension questions in written form. Rewording information is a tricky skill! We have also been writing sentences while paying close attention to verb form (past, future, present tense).
We also learned how to write limericks! From the rhymes to the beats in each line, the students were very successful. They are such fun and simple poems to write. We have had a really fun time sharing both our stories and limericks with each other.
The students have been using rhyming words from our spelling pattern lists to compose short rhymes. At the end of the year when the kids bring their class spiral notebooks home, you're in for a real treat as this is the place where the majority of these compositions are being written and kept!
Reading
We have finished our reading unit on dependencies in nature. The story "Odd Couples" by Amy Sarver was a science article which describes animals that form partnerships in order to survive. "Working Together" by Lori Wilkinson was an article which explains how flowers and honeybees help each other survive. A few vocabulary words that we worked with in our workbooks and used for dictionary activities were: ability, difficult, enemies, partners, respond, species, threaten, and unusual.
We also participated in a literature study where we learned the difference between first and third person points of view by examining the original Three Little Pigs (told by a narrator) versus The True Story of the Three Little Pigs (told by the wolf). We then assumed the role of one of the little pigs and in the first person voice, we told our sides of the story. What a fun activity!
We had another fun author come to visit us: Jennifer Ward who has written many books based on the Sonoran Desert. She talked to us about the whole writing and publishing process and also gave us some native seeds to plant in our own desert backyards.
Jennifer Ward
Mathematics
Last week, our class started the fractions chapter. We have been learning to identify, read, and write unit fractions and equivalent fractions. Also, we have been using models to compare fractions. Here are some vocabulary words that the students will be using during our math lessons over the next week or so: fraction (part of a whole or a set), numerator (the top number in a fraction), denominator (the bottom number of a fraction representing all pieces), equivalent fractions (fractions with the same value).
Science
We have continued working on our weather unit. We have had a great time going outside to observe the weather to write in our weather journals. Not only do we (as meteorologists) have to feel the conditions, but we also have to see them as well…like seeing which direction the wind is blowing according to a windsock or flag, or observing the cloud formations. We will be taking part in more fun weather activities shortly!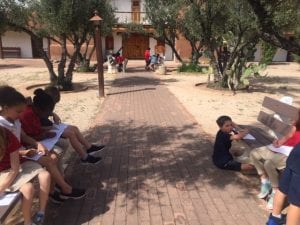 Observing the weather
Social Studies
We have just started a new unit on how goods are produced and distributed. In small groups, we created a simple toy car using assembly-line techniques and learned that most goods and products we use and buy are produced by teams in factories. We learned that using assembly lines and good teamwork strategies including effective communication and job distribution, all make the job easier and quicker! We will continue to research how goods are moved from the factory to the store. We also had a wonderful class conversation about U.S. factory workers, minimum wage, and factories in other countries.
Teaching Time
Many of the students have been preparing some pretty awesome visual aids to accompany their presentations! Wow!
Check out all of the interesting things the kids have been teaching about:
Jady – optical illusions, amethysts
Michael -how the brain and eyes work together, a book he wrote
Twyla – trip to Zion, slumber parties
Max – the Thuderbirds, platypus
Ava – the dump, Havasupai Falls
Sami – cats, water fountains
Tate – air flow science experiment, Patagonia
Nikolas – Laetare Sunday, Palm Sunday
Elia – her family, history of gum
Izayah – how to make slime
Joshua – hockey, how to tie a necktie
Sienna – optical illusions, stories she wrote
Noah – paper airplanes, Paw Patrol Live
Elizabeth – how to make a website, dogs
Ife – bluebirds, trees
Evan – Stan Lee, rubber bands
That's a wrap! Have a great weekend!
Annie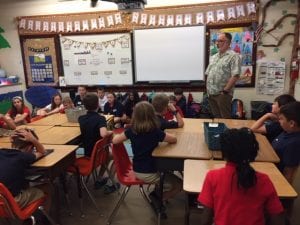 7th graders asking us how they can be good buddies next year
Apostles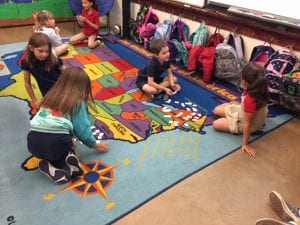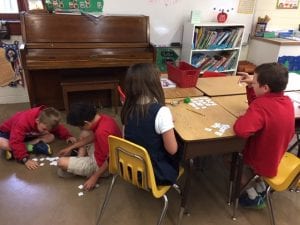 Simple but effective language games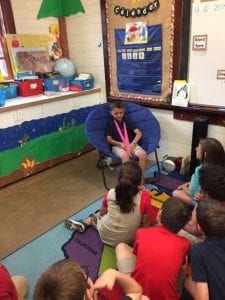 Josh adulting and teaching how to tie a half-windsor