Posted by
annieomeara

| Posted in Uncategorized | Posted on December 8, 2017
Hello Families and Friends!
Greetings and happy St. Nicholas' Day! What special surprise did your child find in his or her shoe from St. Nick? This is just another one of the many wonderful traditions we have here at St. Michael's! Weren't the kids adorable at their St. Nicholas' Day Program? They have been working very hard with Mrs. Faltico to deliver the fine performance that they did ever so successfully yesterday. Speaking of performances, the students have had a great time going to a couple 15 minute rehearsals for the junior high choir because I accompany them on the piano. They love listening to the students and watching Dr. Antista direct (and hearing me play is the best part, of course haha). Many of the kids have said that maybe one day when they are in junior high, I'll still be sitting behind the piano during their rehearsals…I hope so! Please consider donating items for a 7-year-old boy or girl this week for our Christmas Giving project. Thank you!
Reading
We have had some great stories in our reading series that lend themselves quite nicely to the writing projects on which we have been working. "What are our responsibilities to each other?" That is the big question we are exploring in this new reading unit. To answer it, we are reading, writing, and talking about good deeds and things people do to help others. This week we read "Aesop's Fables" retold by Shirleyann Costigan. These two fables show that when you do a good deed, help can come from unexpected places. "Wisdom of the Ages" which were proverbs from seven cultures reminded readers to do good deeds. Some vocabulary words of note: character, choice, citizenship, courage, grateful, respect, responsible, right, and thoughtful.
Spelling and Language
We worked on a few different spellings over the past few weeks: Long A spelled with 'a,' 'ai,' and 'ay.' Also, Long E spelled 'e,' 'ee,' 'ea,' and 'ie.' At this point, all students are strong in spelling phonetically. We just need to retain the spellings and that comes with more consistent visual exposure to all of these words and spellings through reading! We are getting pretty good at locating nouns and verbs in sentences, as well as subjects and predicates.
Writing
Our new reading unit has provided wonderful topics for us to write about. We have been describing good citizenship through several different writing forms: lists, paragraphs, and short stories. Within these writing exercises, we have been practicing finding all of the subjects and predicates in our descriptive sentences. We also wrote rough and good drafts of letters to Santa. Going along with our "lend a helping hand" theme in reading, we not only asked Santa for items for ourselves, but we also requested items for others. Did you know that I am privy to Santa's personal information? As in…I have his address?! Knowing this information helped us learn how to address a proper envelope complete with the correct location of a stamp and the return address as well. Speaking of which, not all students have their addresses memorized yet! Let's make that a goal by the end of Christmas break 😉
Mathematics
We just finished chapter 6 which was all about multiplication and division patterns. Most of this chapter concentrated on operations and algebraic thinking; however, aspects of the number and operations in Base Ten were also used in the study of multiplication and division patterns. As we trudged through the different aspects of multiplication and division patterns, we constantly referred back to the patterns that are found in the multiplication table. These patterns helped lead students to discover the properties of multiplication and the rules of division. We will review a bit next week and be tested on our knowledge as well.
Social Studies
We have been reading several selections and have shared in many discussions regarding good citizenship and how it effects our communities. From the small community of our classroom to the large community of our state and country, every good deed counts. We also learned how to read grid coordinates on maps. The class LOVED map coordinates – like A LOT. We had a great time testing each other on coordinates as well as finding hidden connect-the-dot pictures according to coordinates I would give. Now these kids will all be Battleship masters! We will certainly do some more of this because I just found some fun Christmas coordinate projects! Another map-reading skill we touched on but certainly have not mastered yet is giving directions using the cardinal directions (NSEW). I personally revolt every time someone tries to give me directions to a place using language such as "turn south on Wilmot, and west on Broadway…" no thanks. RIGHT OR LEFT, PEOPLE! But, it is an important skill and I recognize that maybe I'll become proficient along with the children whilst teaching them 🙂
Science
We started studying the life cycle of spiders by learning all of the arachnid body parts. Have your child sing you the super cute spider body part song! We also learned about the 5 different types of webs that spiders weave: orb, tangled, sheet, triangle, and funnel. Ask your child about some spider facts that he or she learned from our many informational texts. We finished our spider study up by touching a real skin shed from Harry the tarantula, my faithful class pet who was with me for 12 years and brought much happiness to all of my past students. Rest in peace, sweet Harry.
Teaching Time
We sure do love learning new things from our friends! Again, I missed a few teaching time afternoons due to child care issues for my son, but…Zoe talked about quahogs and Totoro, Ava showed us how to make a homemade harmonica and homemade air fresheners, Austin talked about chameleons and geckos, Parneet gave information about horses and dogs, Miles talked about John Sutter and the Fantasy Island bike trail, Cecilia played some pieces on the melody harp and talked about her gingerbread house artwork as well as shared some sweet treats with us, Harper talked about medieval life and her elf named Elfis, Wheeler talked about his old Army flashlight, Paul shared how to make a homemade time capsule and about his elves who are named Spaghetti and Meatball, Alice talked about dogs and puppies and gave facts on the history of Christmas trees, Elias shared tips on how to ride a hover board, Joel gave facts about the Basking shark, Jay gave us tips on how to properly decorate a Christmas tree, Naomi talked about mushrooms, Victoria gave facts about gorillas, and Wylder taught us about African safaris. Great job, everybody!
Important Dates
Monday, December 11: holiday book report due
Friday, December 15: end of Christmas giving project
Tuesday, December 19: we are the Mass apostles @ 8:05am
Thursday, December 21: class Christmas party 2:00-3:00 – thank you Michelle Slavin and Sherry Downer for planning!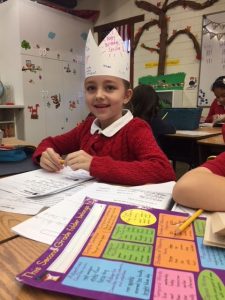 Happy Birthday, Cecilia!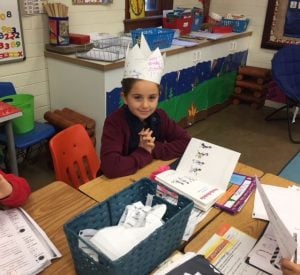 Happy Birthday, Victoria!
 What did St. Nicholas leave in our shoes?!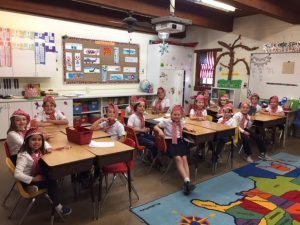 Ready for the performance!
St. Nicholas visited!
Singing!