Posted by
annieomeara

| Posted in Uncategorized | Posted on May 24, 2019
Hello Families and Friends!
It's funny. Whenever I am going through my son's clothes that he has grown out of, or sifting through his old toys to give away, I hear the Carpenters singing in the back of my mind…songs of happiness, sadness, loss, memories, and love. This happened to me during the entire last week of school as I prepared to say goodbye to this wonderful little class of very special students. Who knew I was such a big sap?! Despite my melancholy feelings though, we had much joyous fun together during the last couple weeks of school!
This year was successful in part to our wonderful parent volunteers. Thank you to all of the numerous parents who donated their time and/or various items to the class as well as gave their time to drive to field trips. I truly appreciate the lovely Monica Gonzales, Nova Burns, and Angie Martinez, my room parent extraordinaires, who were organized, fun to work with, and so creative all throughout the year! The planning that they did for our end of the year lunch/party at Playformance was amazing. Such a memorable and special day for us all! Thank you 🙂
Each year on the last day of school, I hand out special little awards to the kids and they get to make a trip to "Ms. O'Meara's Last Day of School Store" where they can pick a small gift from me. It was just as much fun writing out the awards as it was giving it to them. Here is the list of the awards:
Jady – Busy Bee
Michael – Read Everything In Sight
Twyla – Ms. Presentation
Max – Everybody's Friend
Ava – Mathematician
Sami – Big Heart
Tate – Mr. Olympics
Nikolas – Mr. Research
Elia – Guiding Light
Izayah – Right-Hand Man
Joshua – Love For Animals
Sienna – Dancing Diva
Noah – Inventive Creator
Elizabeth – Hug Bug
Ife – Cheerful Cheerleader
Evan – Good Friend
As you can tell, we have a special and diverse group of kids!
And a special congratulations to Elia Lientz! She is our Soar with the Eagles award winner: an award for outstanding citizenship, work ethic, values, and morals!
I am excited to announce one more student who is joining the 100 Book Club: congratulations Jady Aspacher! Job well done!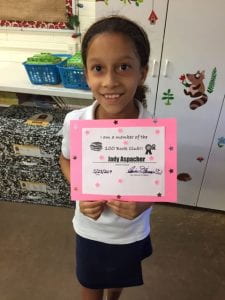 Reading, Writing, Language, & Spelling
We had our own "book club" literature study using the book "Freckle Juice" by Judy Blume. We started our book club meetings with some predictions based upon the cover and title. Each day, we would read a chapter together and would independently write answers to comprehension questions which asked who, what, where, when, why, and how. We created character trait charts and also used Venn diagrams to compare and contrast different characters in the story. Ask your child about what was in the recipe for the real freckle juice!
Many of our spelling words on our last test of the year were words pulled from "Freckle Juice," combined with a few commonly misspelled words that I've seen pop up over and over again in class! "Ask your child about what you're doing this summer when they're in their room over there…" Can you tell which words in that sentence were most likely the ones to be on the spelling test??
We worked really hard on locating subjects and predicates in sentences. Every sentence, no matter how short or long, tells "who did what." The "who" part is the subject, and the "did what" part is the predicate.
During our last week of school, we had another reading Tea Party with the cute book "Lottie's New Beach Towel." If you will recall from the prior tea party, we are only given copies of the book text which are all out of order. We use our comprehension skills to analyze the story parts and come up with predictions about characters, setting, and plot. Then we match our parts of the stories to copies of the pictures by using our inference skills while revising and updating our story element charts. Last, we finally read the story to see how closely we synthesized all the story information. We did a few cute writing projects based on this book as well.
Mathematics
We finished up our geometry unit by discovering different attributes of polygons. We used our prior knowledge of fractions to partition said polygons into equal parts. We also have been reviewing past concepts quite a bit in class including place value up to the ten thousands, addition and subtraction with regrouping.
Please keep working on your math facts over the summer! 3rd graders at St. Michael's are expected to complete 100 addition/subtraction facts in 4 minutes! A wonderful website with tons of review, especially some really great math review, is abcya.com in case you're looking for something tried and true.
Science
We continued our weather study by doing more weather journaling. We learned about the 4 most common types of clouds: cirrus (the thin whispy ones), stratus (the blanket covering the entire sky ones), cumulous (the giant puffy white ones) and cumulonimbus (the big gray poofy raincloud ones). We created cool "cloud viewers" out of paper and cotton balls used to represent the different clouds. We also learned about how rainbows are formed and the color spectrum that makes them up. We also wrote a fun rainbow color book in the style of the "Brown Bear, Brown Bear" book, except we used the colors of the rainbow in the ROY G BIV order. Very cute!
Making and using our cloud viewers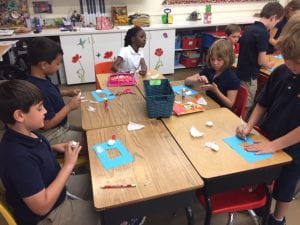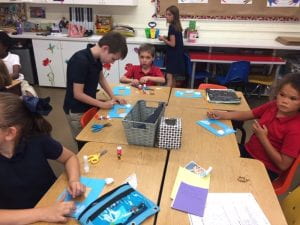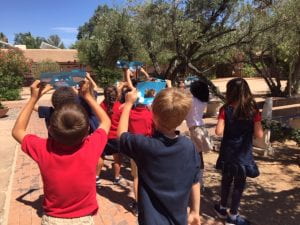 Social Studies
A couple weeks ago, we started studying the history of St. Michael's church and school! We read and talked about some very interesting facts regarding the construction of the church and school and the meaning behind some of the architectural elements. We also took our own little tour of the church where we discovered many of the church's unique and valuable treasures. We enjoyed learning about our very special surroundings!
We were also lucky enough to be given a tour of the library next door. Sure, we visit the library every week, but it's not every day that we get to go behind the scenes to see the book drop, the check-in room, and all of the different computers which are used for various data collection reasons. It was pretty cool! We also learned about all the different jobs you can have if you work at a public library.
Teaching Time
Check out all the cool things the kids have been teaching about:
Jady – Native American flute, the sky
Michael – water cycle, "Just Add Magic" show
Twyla – book report, her magic spellbook
Max – swallow tail caterpillar, how to make a fluff ball creature with samples for all!
Ava – how to use a mallet for camping, her life
Sami – Girl Scouts, Rubik's cube history and special guest big bro AJ to solve in record time!
Tate – football, professional basketball teams
Nikolas – Holy Land trip log, Egypt trip log
Elia – difference between crocodiles and alligators, Belgium
Izayah – his dog
Joshua – hockey pucks
Sienna – trees, funny things her grandmother said when they first met
Noah – cactus and desert animals, Alaska trip
Elizabeth – moving to Phoenix
Ife – her baby brother
Evan – how paper is made
I would like to close this final blog by saying the following:
Thank you for all of the end of the year gifts, cards, and especially the meaningful sentiments in those cards…enough to make this old gal shed big tears into her oversized American flag coffee cup, but so sweet as to make this old gal feel like I did a lot of things right this year. To know that you, the parents and kids, are happy is truly the best gift of all.
Thank you for your patience and support as I navigated through the tricky spots of work-life while blending families and scrambling with my own child care issues.
Thank you for trusting me with your children. Being a parent now, I know, appreciate, and respect what it feels like and what it means to leave your most valued treasure with someone who is not you.
Most importantly, thank you to my students. Every day I spent with you was magic.
Have a wonderful summer and enjoy time spent with family, friends, pets, books, and nature! I will see you soon either to the north or south of 2B Camp Wanna-Learn-A-Lot!
Best,
Annie
Playing Wax Museum with our 8th grade buddies before they graduate!
Apostles
Sami's brother AJ (a former student of mine) mystifying the class with his Rubik's cube skills 
That's a wrap! 🙂