Posted by
annieomeara

| Posted in Uncategorized | Posted on April 14, 2018
Hello Families and Friends of 2B!
We have been having an especially enriching and fun couple of weeks here in 2B!
Thank you to all of you who donated eggs to the Casa Maria Foundation. Also, thank you to the parents who helped the students throw a little surprise party for me. Flowers, cookies, and cards – so nice! And I was totally surprised and also impressed that the kids did all of the planning on their own! I felt very special and so very loved 🙂
Our standardized tests seemed to go very well. You should be expecting the test results over the summer.
Mr. Hawes and his 8th graders treated both 2nd grade classes to a sock puppet rendition of Shakespeare's Tempest. This was the first time that I didn't really need Cliffs notes for this play 🙂
We met our new headmaster, Mr. Sullivan, last week. The students were able to ask him a few questions; however, somehow they ended up giving him an oral spelling test as he was trying to leave our classroom. The good news is, he spelled 'chandelier' correctly! I guess he can stay 😉
The students are really looking forward to performing for you at our Fine Arts Night next Friday, April 20th. The students should be dropped off in my classroom at 6:30. The show starts at 7:00 in the gym and the students will be dismissed at the end of the show from our classroom. Instructions on attire will be coming out this week. It is a super cute show and I can't wait to see it in its entirety!
Spelling and Language
We have been focusing on long vowel words as well as words that we can hyphenate. We also have been learning about articles ('a', 'an', and 'the'), synonyms, and antonyms. The students have been enjoying becoming more familiar with the Thesaurus and dictionary. We are practicing using both resources to find what I like to call $50 words in our writing. We just have to remember to use words from the Thesaurus that we can understand! Our recent spelling patterns are: al, all, oi, oy, ow, and ou.
Writing
We have been working very hard on locating details from stories and/or articles and using those details to answer comprehension questions in written form. Rewording information is a tricky skill! We have also been writing sentences while paying close attention to verb form (past, future, present tense). The students have been enjoying writing different types of poems such as cinquains and limericks and also have been using rhyming words from our spelling pattern lists to compose short rhymes. At the end of the year when the kids bring their class spiral notebooks home, you're in for a real treat as this is the place where the majority of these compositions are being written and kept!
Reading
We have finished our reading unit on dependencies in nature. The story "Odd Couples" by Amy Sarver was a science article which describes animals that form partnerships in order to survive. "Working Together" by Lori Wilkinson was an article which explains how flowers and honeybees help each other survive. A few vocabulary words that we worked with in our workbooks and used for dictionary activities were: ability, difficult, enemies, partners, respond, species, threaten, and unusual.
The few days prior to Easter (since it was a short week), we took a little break from our language arts series and instead, we did a fun language arts activity that I love! It's called a reading "tea party." We used the book "The Escape of Marvin the Ape" for our tea party. It goes like this: on the first day of a tea party, I make copies of just the text portion of a book. Each student receives a portion of the text. Just like at a tea party, the students go around the room and "mingle" while they would read their story portion to another person. Then that person would read their part to the other person, then switch people, etc. The goal of this portion of the tea party is for the students to work on using the information that they are hearing about the story and then putting that information into an order that makes sense as a story. After this, we fill out a character, setting, plot chart where we make predictions about the story elements. The 2nd day consists of matching each individual sentence/story part to a picture from the book by using comprehension, inference, and critical thinking. Each student then has to explain why he or she picked that picture to illustrate their story part. After doing this, we try to write a story about how we think it is actually written, now having a more clear picture due to words and illustrations being brought together. The third day of a tea party is the day that we actually read the story and compare our predictions to what really happened. Tea parties make reading fun and different. Also, they help students to realize that understanding stories takes time; however, an understanding can be reached through taking what has been read, analyzing the information, and then making inferences and predictions. So fun!
Mathematics
We continued learning about fractions over the past 2 weeks. We learned how sets or groups can be divided to show fractional parts. We also learned how to add and subtract fractions with like denominators. In addition, we were introduced to reading and writing mixed numbers. We will be taking a test on this chapter next week and will be moving onto measurement.
The class has been very interested in BIG numbers! So we have been doing a lot of extra work on place value up to the millions place through a fun game called "Last Number Standing." We play it on our individual white boards and it is surely a class favorite! Ask your child about it!
Science
We have continued working on our weather unit. We have had a great time going outside to observe the weather to write in our weather journals. Not only do we (as meteorologists) have to feel the conditions, but we also have to see them as well…like seeing which direction the wind is blowing according to a windsock or flag, or observing the cloud formations. We will be taking part in more fun weather activities shortly!
We did an experiment with several solid objects to see how air affects them. We discovered that air can move and push things, it can be changed into different shapes, and can make things fly. This knowledge is connected to how air pressure in our atmosphere brings changes in weather.
This past Monday, we visited Sabino Canyon for a wonderful field trip. We were presented facts about the desert and riparian environments, predators and prey, and desert animal camouflage. We learned some tips on finding clues from nature that normally hide themselves so well from us; hence the name of the presentation: "Now you see it; now you don't!" Thank you to Wylder's mom, Jay and Joel's mom, and Austin's nanny for driving us there!
Social Studies
We have just started a new unit on how goods are produced and distributed. In small groups, we created a simple toy car using assembly-line techniques and learned that most goods and products we use and buy are produced by teams in factories. We learned that using assembly lines and good teamwork strategies including effective communication and job distribution, all make the job easier and quicker! We will continue to research how goods are moved from the factory to the store. We also had a wonderful class conversation about U.S. factory workers, minimum wage, and factories in other countries.
We enjoyed a recycling presentation called "Too good to throw away" given by the City of Tucson. We learned about all the things we can and cannot recycle. Ask your child about it! To reinforce the whole idea of recycling, the students will be creating some really cute Mother's Day gifts out of recycled objects. So, we are needing to collect tin cans and sturdy sticks (from trees) no more than a foot long. All sizes of cans work, however the larger the better! Please bring in as many as possible starting Monday!
Teaching Time
Many of the students have been preparing some pretty awesome visual aids to accompany their presentations! Wow!
Check out all of the interesting things the kids have been teaching about:
Zoe – molecules, red snapper, remora fish
Austin – making an origami cat, getting braces, how to say some Korean words
Parneet – tarantulas, chimpanzees, sea turtles
Ava – penguins, pandas
Cecilia – pallas cat, hagfish, tardigrades
Miles – Ft. Bowie, how to draw a tree
Harper – her dog Romeo, poem by Edward Thomas, necklace from Mexico
Paul – frogs, how the wheel-o works
Wheeler – deadly animals, obsidian
Alice – Easter facts, great white sharks, her dog Dori
Jay – science experiment, how to make the perfect grilled cheese
Joel – how to make a bubble wrap glove, how to do fingerboard tricks, world's records
Elias – how to make a fingerboard, fingerboard competitions
Victoria – starfish, how to weave
Naomi – homemade greenhouse, desert hare facts
Wylder – his cat
That's a wrap! Have a great weekend!
Annie
First day of the big Tea Party!
Recycling presentation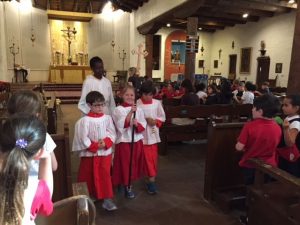 Apostles
The (sock) Tempest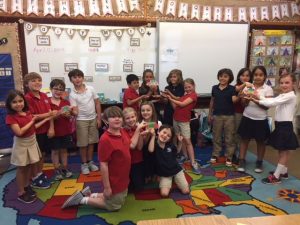 Final products from assembly lines!