Posted by
annieomeara

| Posted in Uncategorized | Posted on September 29, 2017
Hello Families and Friends!
It is finally beginning to feel more and more like Fall everyday!  We have had a great few weeks together here in 2B!  Progress reports will be going home this upcoming Wednesday. We have been in school for 30 days, so these grades are a collection of both formal and informal assessments to date. If you have any questions on your child's progress reports, please email me! Thank you to all of the parents who have signed up to help out in the classroom – we have really enjoyed having you work with us…Michelle Slavin and Melissa Brosanders read us some pretty fun books this and last week!  Don't forget that the haunted house book report is due on Wednesday, October 25th. Let me know if you have any questions on that fun project. Also, the students have also started tracking all of the books they are reading on their 100 Book Club logs! Good luck on your road to the 100 Club 🙂 And finally, we are still in need of magazines with pictures of different foods for a STEM project next week. Thank you!
Spelling
We have been working on several consonant blends.  I already see a difference in the students' spelling when they are writing – they are really remembering the spellings of long vowels and words!  They are also using syllables to more accurately sound out and spell longer words. We continue to review the high frequency words of the second grade.  These are words that constantly pop up in our reading and may contain unconventional spellings – like the words because, people, were, their, etc.  Have your child point out nouns and verbs during your nightly reading!
Writing
We had a lot of fun in our writing over the past 2 weeks! The students  were able to pick any animal and write about its unique camouflaging abilities in paragraph form. We revised and edited our paragraphs and had a great time sharing them in our "author's chair!" We also worked on making inferences by doing a fun writing activity: we each drew a picture, then we passed the pictures around, then used our inference-making skills to write a sentence on back of the picture stating what we thought was was going on. This was a great activity, though I should admit that I basically ripped this idea off from the super-fun party game titled "Scribblish" 😉
Reading
"What does it take to survive?" That's the big question we are exploring in this unit. To answer it, we are reading, writing, and talking about animal adaptations and how they help animals get what they need to survive. In our small reading groups, we worked on leveled readers.  We focused on using character voices when we come across quotation marks in our reading.  One of my groups insists on reading everything like it's some wildly mysterious action-thriller (you know who you are hahaha!). We worked on locating action and helping verbs in our reading and in our workbooks.  We took a test today which tested comprehension and vocabulary skills. A few stories we read were: "Twilight Hunt" by Norelle Oliver where animals use camouflage to hide as a Screech Owl hunts for food, and "Hide and Seek" which is a science article that tells how animals use color, shape, and size to hide in their habitats. Some new vocabulary words that have popped up in our reading are: adaptation, animals, color, defend, habitat, hide, insects, safe, shape, size, and survive.
Mathematics
We took a math assessment a little over a week ago.  Overall, the students did extremely well.  If there were mistakes, they were mostly reading mistakes, not mathematical errors.  We have practiced reading all parts of math questions while underlining pertinent information.  The past two weeks we have been working on subtraction and inverse relationships between addition and subtraction to write related sentences.  Also, we've been working on solving problems with missing numbers, finding the rules for number patterns, and adding and subtracting mentally by estimating.  All of these different, almost algebraic, activities will help to improve our number sense. On Monday, I will be sending home some access codes for the students so they can jump online and practice math skills on an extremely useful sight called xtramath.org. You and the kids will love it as it provides the extra help that many students require at this time of the year. The students will also be provided some opportunities to visit this site on our classroom ipads from time to time.
Science
We continued learning about the life cycle of plants. We planted all of our germinating lima beans into the planter outside of Mrs. Schultz's classroom. Out of 17 seeds…..1 has sprouted into a pretty decent sized little plant which my leaders ever so lovingly water very day. We are pretty sure the church-yard bunny is using our plant as its late-night snacking shrubbery. This led to some fun writing: we wrote a R.A.F.T. (stands for Role, Audience, Format, Topic).  So, the students pretended they were plant scientists (role) who are unhappy about how most of our science class's seeds aren't growing.  They wrote a letter (format) to the seeds (audience) explaining why they should start growing (topic)!! These got quite creative! I will display them next week. September 26th was Johnny Appleseed day, so what better day to have an apple taste test with different types of apples? We discussed and charted color, texture, and taste differences and talked about how cross-pollination (more to come on that) leads to different variations of fruits.
Social Studies
We are continuing to work on our community unit.  We are building a whole community ourselves, and are discussing all of the necessities of a healthy and well-functioning community. Our cardboard creations and shoeboxes are starting to take shape and look like real buildings! The painting portion of the project started today, which is always "super fun" in a classroom with no sink; so I apologize for the paint in some people's hair and on faces and clothes at the end of the day today :/ We have been focusing on three different types of communities: urban, suburban, and rural.  We are discovering the similarities and differences between all of these different places. Job well done on the community and culture projects! We discovered that even though we are from different families and cultures, we share many similarities. We learned a lot about each other and our families and I trust that it led to some fun conversations at home.
Teaching Time
We had many informational teaching times over the past few weeks!
Parneet: the Statue of Liberty and the Eiffel Tower
Zoe: Whale watching and human heart facts
Austin: raccoon facts and keeping grasshoppers as a pet tips
Ava: how to draw a cat and more cat facts
Cecilia: how to make brigadeiros and a synopsis of Treasure Island
Miles: how to be a Junior Ranger and how a Hexbug works
Harper: family recipes and penguin facts
Wheeler: how a Hexbug robot works and bulldogs
Paul: pinewood derby Dodge Wayfarer and Joel Satore photographs
Alice: brigadeiro recipe and how to make Brazilian cheese bread
Elias: how to count money using a counter and how Pokemon cards work
Jay: how Beyblades work and how to make chocolate chip cookies
Joel: geode facts and the history of Winnie the Pooh
Victoria: how to make fluffy slime and how Live Theater Workshop works
Naomi: cat facts and how to play the pan flute
Wylder: magic tricks and geode/mineral facts
Important Dates
Tuesday, Oct. 3rd: Blessing of the animals mass – each student can bring a stuffed animal to have blessed
October 9-13: Fall break
Thank you and have a nice weekend!
Annie O'Meara
Culture box sharing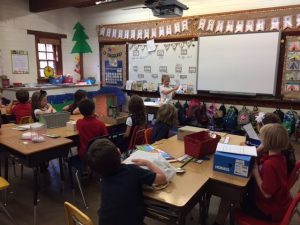 Twinning on picture day!
Adorable Happy Campers

Building communities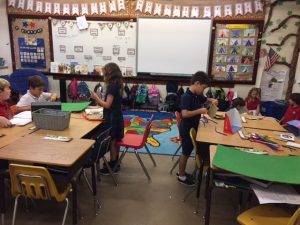 Planting bunny food